Investment casting, also called lost-wax casting, is one of the oldest known metal-forming techniques. From 5,000 years ago, when beeswax formed the pattern, to today's high-technology waxes, refractory materials and specialist alloys, the castings allow the production of components with accuracy, repeatability, versatility and integrity in a variety of metals and high-performance alloys.

The process is generally used for small castings, but has produced complete aircraft door frames, steel castings of up to 300 kg and aluminium castings of up to 30 kg. It is generally more expensive than die casting or sand casting, but can produce complicated shapes that require little rework or machining.

Investment casting offers high production rates, particularly for small or highly complex components, and extremely good surface finish (CT4-CT6 class accuracy and Ra1.6-6.3 surface roughness) with very little machining. The drawbacks include the specialized equipment, costly refractories and binders, many operations to make a mould, and occasional minute defects.

Is used in the aerospace and power generation industries to produce single-crystal turbine blades, which have more creep resistance than equiaxed castings. It is also widely used by Sturm, Ruger among other firearms manufacturers to fabricate firearm receivers, triggers, hammers, and other precision parts at low cost. Other industries that use standard investment-cast parts include military, medical, commercial and automotive.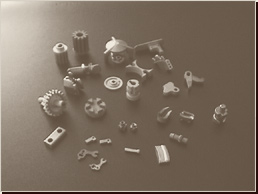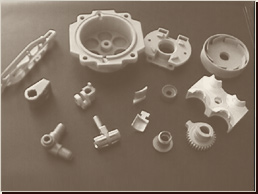 a skilled company producing steel components of complex shape through investment casting (lost wax process) and M.I.M. (Metal Injection Moulding) Technology.
Altought parts produced with these two methods have similar properties process phases are quite different:
in Fact.

Investment casting (Lost wax casting) process phases are:
Mould construction to inject wax pattern
Injection of wax patterns trough hydraulic press
Assembly of wax patterns on wax cluster
Wax clusters dip in a binder
Cluster stuccoing with refractory to become a ceramic shell
Dewaxing trough autoclave
Ceramic shell firing
Molten metal pouring into shells
Ceramic shell knock-out
Parts cut from the steel shell and finishing


INVESTMENT CASTING
– DIMENSIONAL TOLERANCES
As a general rule normal linear tolerance on an investment casting can be +0,75% of the nominal dimension, with a minimum of +0,10 mm for dimensions lower than 15 mm in order to achieve closer tolerances, a machining allowance is required, but never forget that an investment casting always permits to reach very complex geometries.
As a good rule severe tolerances are to be avoided if not necessary to allow the higher production yelds and lower piece costs.
Therefore, functional or closer dimensions must be pointed out in the drawings and dealed with the technical department.
STEELS FOR INVESTMENT CASTING

LOW CARBON steels
C10
C15
12NiCr3
16CrNi4
16NiCr11
16NiCrMo2
16NiCrMo12
16MnCr5
18CrMo4
18NiCrMo5
18NiCrMo7
20MnCr5
20CrNi4
20NiCrMo2
HARDENING steels
C20
C25
C30
C35
C40
C45
C55
C50
C60
25CrMo4
C28Mn
30CrMo4
30NiCrMo8
30NiCrMo12
32CrMo12
34NiCrMo16
34Cr4
35CrMo4
35NiCrMo15
36CrMn5
38Cr2
39NiCrMo3
42CrMo4
40NiCrMo2
40NiCrMo7
41Cr4
50CrMo4
90Mn4
SPRING steels
48Si7
55Si7
60Si7
60SiCr8
52SiCrNi5
45SiCrMo6
55Cr3
50CrV4
51CrMoV4
BEARING steels
100Cr6
100CrMo7
X45Cr13
X105CrMo17
X80MoCrV44
X82MoWMoV65
X75WCrV13
TOOL steels
X155CrVMo12.1 KU
X205Cr12KU
X37CrMoV5.1KU
X40CrMoV51.1KU
90MnVCr8KU
95MnWCr5KU
HS 2-9-1-8
HS 6-5-2
45WCrV8KU
HS 18-0-1
STAINLESS steels
AUSTENITIC (AISI)
201
202
301
302
303
304
304LN
304H
304L
305
309
310
314
316
316L
316H
316LN
316N
316F
316Ti
316Cb
317
317L
317LN
321
321H
347
347H
310MoLN
XM19
330
DUPLEX (UNS)
S32900
S31803
S32304
S32750
S32550
S32760
FERRITIC (AISI)
405
409
410S
430
430F
434
439
XM-34
446
MARTENSITIC (AISI)
403
414
416
420
420F
422
431
440A
440B
440C
PRECIPITATION HARDENING (UNI)
17-4PH
15-5PH
PH 15-7 Mo
17-7PH
17-10P
NICKEL BASE ALLOYS
COBALT BASE ALLOYS
INVESTMENT CASTING GENERAL TOLERANCES

NOMINAL DIM. (mm)
Lenght, Width, Height
LINEAR PRECISION GRADES
Up
To
D1
D2
D3
6
±0,10
±0,08
±0,06
6
10
±0,12
±0,10
10
14
±0,15
±0,12
±0,09
14
18
±0,20
±0,14
18
24
±0,25
±0,17
±0,12
24
30
±0,30
±0,20
±0,14
30
40
±0,37
±0,25
±0,17
40
50
±0,44
±0,30
±0,20
50
65
±0,52
±0,38
±0,23
65
80
±0,60
±0,46
±0,27
80
100
±0,68
±0,53
±0,30
100
120
±0,76
±0,60
±0,33
120
140
±0,84
±0,65
±0,36
140
160
±0,92
±0,72
±0,38
160
180
±1,02
±0,80
±0,42
180
200
±1,12
±0,88
±0,43
200
225
±1,28
±0,95
±0,47
225
250
±1,44
±1,05
±0,51
250
280
±1,64
±1,15
±0,56
280
315
±1,84
±1,25
±0,63
315
355
±2,10
±1,40
±0,71
355
400
±2,40
±1,60
±0,80
400
450
±2,70
±1,80
±0,90
450
500
±3,00
±2,00
±1,00
---